SERVICE DOG TRAINING AND CERTIFICATION FOR DOGS FOR PEOPLE WITH DISABILITIES
We can train and certify your dog to become a service dog, or we can provide dogs that fit your particular situation. Service dogs not only provide loving and devoted companionship; they also help to improve the quality of life for people who need their assistance.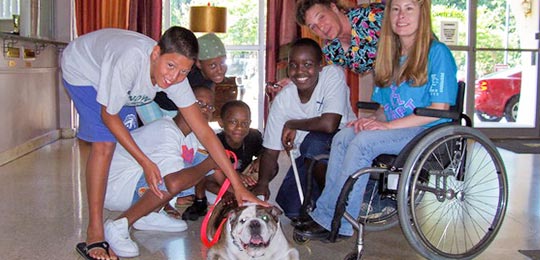 HAPPY CUSTOMERS
"I am a quadriplegic due to multiple sclerosis, and I am a resident in a nursing home. Candy Crawford of All Breed trained my service dog (also named 'Candy'), and she did a tremendous job. Candy is trained in obedience and is also trained to open and close the door and turn off the light.
I draw with my mouth and Candy is trained to bring my mouth sticks to me and take them to a desk when I am finished. She is a joy to have and I owe a lot to Candy Crawford. She went more than the second mile in training to help both my dog and me.
I found her to have strong Christian values and would highly recommend her as a trainer."
~ Shirley Patton
"Thank you very, very much for training Sparkle for me. As you know, I would not have been able to keep her without the training because she is so energetic. She is still very active at home, but controllable and is a totally different dog when she knows she is working.
I have had many questions and comments about how beautiful and well-behaved Sparkle is, especially since she is so young. People see her instead of the wheelchair and my disability and they seem to be completely at ease with talking to me. She is a wonderful companion and I am so glad I can take her places with me.
So far Sparkle and I haven't had to face any problems about entering business places. I am hoping this is a sign that business people are becoming better educated to the fact that service dogs are to be allowed anywhere that people with disabilities go. Although I am sure we will eventually meet someone who will try to stop us from entering their establishment, I am fully prepared to educate them to the law.
Yesterday we had lunch at Jillian's at Peabody Place, then last night we went to the Orpheum. One of the ushers saw Sparkle panting during the performance and brought her a cup of water during intermission.
Thank You again for training Sparkle."
~ Betty Anderson
Testimonials
"Candy Crawford has exceeded all expectations as a Security Consultant for our company. It is our opinion that Candy Crawford has the qualifications, skills and experience necessary to do an excellent job in Security for your company.